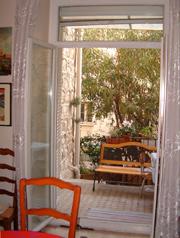 FOR SALE BY OWNER! An immaculated
house
built in warmest area of
South of France
! PEEK
VIDEO
show, you will be charmed by many wonderful colors of this
property
in
Vaison la Romaine
. For example, home walls colors fulfil local
south
tones: brown bright. Probably one of most delightful of the
French South
!
This section of the property in one of Vaucluseís finest hilltop villages and starts on the ground floor, with the front door in a prime position on a main village street and its grocerís shop, post office, school, community hall and bar/ tabac. Peek round the corner of this property south France, and youíre facing the Enclave des Papes (not so far from famous Mont Ventoux).
The layout of the property reflects current use: itís a beautifully restored old house with a new addition tastefully built in the same style opposite, linked by a pergola. The two buildings look out onto a very beautiful swimming pool and a delightful garden, totally enclosed with tall cypress hedging and high walls.
The little furnished home consists of a lovely sized living room. It is very well presented, with good, solid patio doors out to the spacious covered terrace, and an attractive modern fireplace for wood burning. Thereís the big kitchen and plenty of room for eight people to eat either inside or outside this property south France.
The main house has a beautiful kitchen fitted with pale wooden units and a charming, beamed, double bedroom downstairs. Upstairs, there are two double bedrooms with views over the swimming pool, then steps up to a pretty bathroom, a shower room and another lovely bedroom with a jacuzzi bath and toilet.
Moving on through the south of the property, you find yourself on a terrace the whole width of this floor with fantastic views across to the mountains. Upstairs, you come firstly to a big bedroom and then up again to a smaller one, both with original floor tiles (please have a look at property photo). As you can see, there are at least two further attic spaces that could convert into more sleeping or bathing space.
Everything of this property is very clean and bright, aided by the double French doors on the upper landing which let in the sunlight. Thereís a super furniture on every room. Ground floor entrance hall leads down to a beautiful vaulted cellar. Thereís a great double garage inside the gates and a very large terrace completes this superb house.
If you live here full time, you may want to use the downstairs bedroom as a lounge, but whatever you decide, youíll have a superb property south France! Itís fascinating... And it could be yours!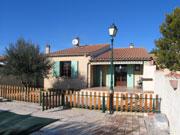 ---