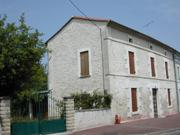 for sale by
PRIVATE
OWNER
. A peaceful property on the edge of a delightful
south
French in Provence. Peek
VIDEO SHOW
!. I promise you'll love living in the sunny village!
If it's peace and quiet you're after then this could be the place for you. Set right in the heart of the Provencal south you can bask in the 300 days of sunshine for which the region is famous. Don't worry about being too isolated though, because you would only be a short drive away from local amenities in Dieulefit and Nyons with their supermarkets and shops.
So if the setting is so beautiful, what about the villa in south of France itself?
The façade of this villa consists of three entrances. To the right, there is a large entrance door that hides a covered passageway to a courtyard garden, ideal for al fresco breakfasts. To the left you have a set of French windows to a large downstairs living area with an unusual wooden fountain. As you can see on the wonderful photo, there is a heavy oak panelled door in the centre of this furnished house.
From the main entrance, an impressive stone staircase leads to the first floor of this character villa where there are four large rooms and a bathroom with jacuzzi bath. One room is currently fitted out as a kitchen which although basic is quite serviceable. The second floor of this villa in south of France has three further rooms and access to one of the roof terraces close to a mezzanine. As if this wasn't enough there is a spiral staircase that runs up through the back of the house to another roof terrace. Because there is independent access from the propert courtyard, this section of the villa could be made into a separate dwelling entirely.
If you need a rest after a jacuzzi bath, relax in the garden or take in some sunshine on the roof terrace. This house has the most beautiful roses amassed in a central flowerbed and then all the way along the wall facing the terrace, too.
You have here a lovely villa in south of france in a beautiful tranquil location with a terrace and central heating which is ready to move into at a reasonable price suggested by private owner.
---
There are also many
villa
available in cities like Romans sur Isère, Valence or Tain l'Hermitage and Tournon sur Rhone (Ardeche).
Also discover some opportunities of traditional villa in Provencal Drome: Saint Paul Trois Chateaux, Crest, Bourdeaux, Mirabel les Baronnies and Buis les Baronnies.
And also few other villa with very large swimming pool in the French Riviera and last (low cost villa) in French Alps close to Digne-les-Bains.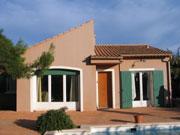 ---